Historical Note
Gorrenberry lies in the valley of the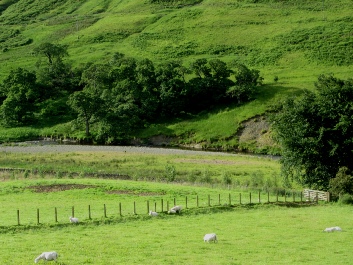 Hermitage Water at the heart of Reiver country. It is an area redolent with romantic tales and legends. For the last few centuries members of the Elliot and Scott families have lived here and several Elliots and Scotts still farm in and around the valley.
Goranberry is marked on H. Moll's 1732 map (http://maps.nls.uk/view/?id=216) in Liddesdale, with its northern march on the boundary with Roxburghshire. It is also shown on John Thomson's Atlas of Scotland, 1832, as Gorronberry or Gorrenberry (http://maps.nls.uk/atlas/thomson/view/? ) in Castletown Parish. The Bartholomew Survey Atlas of Scotland, 1912 shows Gorrenberry. (http://maps.nls.uk/atlas/bartholomew/view/?id=1165. Gorrenberry farm was until the 1970s part of the Buccleuch Estates.
On Gorrenberry itself there are no important historic buildings still standing.. Gorrenberry Tower was a small tower house at 55.266827N, 2.845836W. No structural remains can now be seen but there was reported to be a slight rectangular mound, about 11.0m E-W by 4.5m (www.scotlandsplaces.gov.uk ). It may have been there in 1320 when folklore says that the Lord de Soulis of Hermitage Castle took a fancy to Fair May of Goranberry, the sweetheart of the heir to Branxholm, a member of the Scott family (John Leyden's Border Ballads –"Lord de Soulis"; www.borderreivers.co.uk). Scions of the Elliots and the Scotts lived at various times here. The Brownie of Goranberry, a helpful supernatural being which cleaned the building nightly, was reputed to live in the tower with one of the Elliots.
The history of the Hermitage Valley is very much tied up with that of Hermitage Castle which lies to the east of Gorrenberry. The history of this important national monument and the lands around it have been reported in a fascinating monograph by Professor Richard Oram of Stirling University (Report of Hermitage Castle).